Overview
Working Towards a Cultural Burn
Escarpment has been co-conceived by local artist, Siri Hayes and InPlace Director, Eugene Howard, with the project being creatively produced and supported by InPlace through the InPlace Commissions Stream. Since 2020, InPlace has worked alongside Siri Hayes researching and developing Escarpment, an interlaced series of projects exploring the potential for artists to act as contributing caretakers of place through practice.
First, consulting with Wurundjeri Elder, Uncle Dave Wandin (Wandoon Estate; Wurundjeri Corporation; Birrarung Council), and Senior Botanist at the Department of Energy, Environment and Climate Action (DEECA), David Cameron, the decision was made to utilise the preparation of a site at Garambi Baan for a cultural/ecological burn as a guiding framework. An appropriate site was selected by Uncle Dave Wandin.
This expansive project is unfolding slowly with a cross-industry collaborative approach and an array of multidisciplinary artists engaged through residencies and commissions.
The project itself is being guided by the requirements for both a culturally consultative custodial model and environmental science principles. The riparian site is of ecological and cultural significance, being a cultural landscape forming part of Wurundjeri Woi-wurrung Country, and a large stretch of Public Conservation Resources Zone (PCRZ) 'Crown Land'.
Concepts steering projects within the project-whole include the creation of an expanded herbarium (traditionally a collection of plant specimens databased and arranged systematically); commissioned writing; quadrat surveying (a measured area, of any shape and size, that is used as a sample area in a biological survey); a suite of residencies, and development of an Indigofera Australis dye vat in collaboration with artist Aboubakar Fofana – including growing 1,000 Indigofera Australis.
Escarpment contributes to InPlace's commitment to being stewards and caretakers, not just for the built environment, but for this important cultural landscape aswell.
---
Escarpment has been assisted by the Australian Government through the Australia Council, its arts funding and advisory body, Office for the Arts through the Rise Fund, Creative Victoria through the Creators Fund, and The University of Melbourne through the Philip Hunter Fellowship.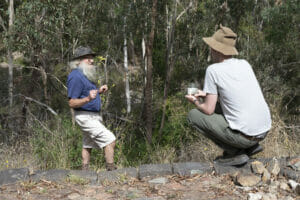 Research
Development to-date
First phase research and development commenced in 2021, supported by the Philip Hunter Fellowship (University of Melbourne) and Creative Victoria's Creator's Fund. Creative and conceptual frameworks for Escarpment are being tested through the first iteration of the project, titled 'Tier Drop Garden'. This utilises the preparation of a site for ecological and/or cultural burning as a method for generating an innovative ecologically, socially and culturally engaged 'best creative practice blueprint' for caring for place, whilst producing materials, research and processes for the development of new works of art and experimentation.
In consultation with project partners, Uncle Dave Wandin and David Cameron, the lead artists are looking to investigate the use of quadrat surveying* and the development of an herbarium* not only as a method to observe and document the changes in ecology on site, but as a means to generate artistic outputs through an expanded notion of the herbarium and to develop both a conceptual framework and future exhibition design.
The beginning of Escarpment coincided with the 2022 launch of InPlace's Garambi Baan/Laughing Waters Residency Centre and represents a critical aspect of InPlace's foregrounding of Wurundjeri Woi-wurrung cultural knowledge, ongoing custodianship and in supporting contemporary practice which actively centres interdisciplinary engagement. InPlace is affording the project an extended, flexible multi-year residency, co-investment and support in facilitating interdisciplinary partnerships with key stakeholders.
*a botanical research tool for documenting plant species and recording changes over time.
*a botanical research tool for documenting plant species in a specific location, traditionally through sampling species and pressing them
Consultation & Cultural Burning
The entirety of the project is being conducted in consultation and collaboration with Wurundjeri Woi-wurrung fire knowledge holder, Uncle Dave Wandin, Wurundjeri Woi-wurrung Elder, Aunty Annette Xiberras, and Senior Botanist at the Department of Environment Land Water and Planning (DELWP), David Cameron. The intention of commencing phase one with the Tier Drop Garden is to trial an approach to preparing an accessible, controllable site for an ecological and/or cultural burn, setting a precedent for future larger scale burns within Laughing Waters. The project seeks to tackle head-on debates around conflicting scientific, historical and cultural principles in the management of Country with regards to burning – creating a space to explore these ideas and practices, generating new research, forging new partnerships, and commissioning new multidisciplinary works of art.
Siri Hayes
Resident Artist Profile
Of European heritage Siri Hayes was born on Boonwurrung Country and has mostly practiced on Wurundjeri Woi wurrung Country in northeast Naarm/Melbourne, Australia, where she lives with her artist husband and two children. Hayes works across photography, video and textiles as materials to investigate the photographic paradox in which illusion and the indexical or physical connections to the real, coexist. She is particularly interested with creatively interrogating the slippages between these but is becoming more and more intrigued with how materials can embody engagement with place.
Her work has been included in many group exhibitions throughout Australia as well as in Finland, France, Poland and Japan. Some of these include Negotiating this World: Contemporary Australian Art National Gallery of Victoria, Future Primitive Heide Museum of Modern Art, Boundary Line TarraWarra Museum of Art, Stormy Weather: Contemporary Landscape Photography National Gallery of Victoria and Contemporary Australian Portraiture at the National Portrait Gallery. Hayes's work also features in over 20 public Australian collections. She has received several photographic prizes including the National Photographic Purchase Award, an Australia-Korea Foundation travel grant and the Olive Cotton Award for Excellence in Photographic Portraiture. In 2008 she was a finalist in the inaugural Prix Pictet exhibited at the Palais de Tokyo, Paris, France— an award for international photography that engages with environmental themes. In 2010 Hayes was artist-in-residence at the. Australia Council studio in Barcelona, Spain.
Hayes completed a Bachelor of Fine Arts (photography), a Graduate Diploma of Visual Arts and a Master of Fine Art all at the Victorian College of the Arts. She also works in higher education as a lecturer in photography and visual art at the Victorian College of the Arts and Monash University and has guest lectured at many other universities and institutions since the early 2000's.
Opposite is an example of Hayes' work from her Australia/Japan exchange project, the Kanazawa cloth project. The backdrop textile was woven from yarn dyed with red box eucalyptus and indigo. This work saw Hayes pre-dye yarn in Australia with the eucalyptus before traveling with it to Japan and dyeing yarn in Japan with Japanese indigo. The concept for this work was Hayes weaving a known and unknown place together using art materials engendered with both as an embodied engagement with Kanazawa.
Uncle Dave Wandin
Collaborator/Consultant
Wurundjeri Woi wurrung Elder Uncle Dave Wandin is the Corporation's Manager of Cultural Practices (Fire & Water). Prior to this role, Uncle Dave was instrumental in the establishment of the Corporation's Narrap Team, a team of cultural land managers. Uncle Dave is a recognised leader in both the promotion and execution of cultural burns in Victoria. Uncle Dave, along with the Water Unit, has worked on the development of the Yarra Strategic Plan to ensure good outcomes for Wurundjeri Woi wurrung culture and people alongside representatives from Responsible Public Entities identified in the Wilip-gin Birrarung Murron Act (2017).
Uncle Dave has consulted on the Escarpment Project and Tier Drop Garden since their inception, identifying and advising on the appropriate site for commencing stage one. Uncle Dave will continue to be a collaborating partner across 2022-2023 on the development of a land management strategy to guide the next phase of the project, working on the escarpment below InPlace's River Bend House.
David Cameron
Collaborator/Consultant
David Cameron is Senior Botanist at the Department of Environment Land Water and Planning (DELWP) and Curator of the Victorian Biodiversity Atlas and the Advisory List of Rare or Threatened Plants in Victoria. David Cameron is one of Australia's most experienced and renowned botanists, with a career spanning nearly five decades. David has worked closely with Uncle Dave Wandin on various projects to-date, however never before within a contemporary arts context. The subject of ecological, cultural and fuel reduction burning is now more hotly contested than ever before, David Cameron seeks to navigate a delicate balance through his work, hoping to achieve both cultural and ecological benefits when burning is sensitively and collaboratively undertaken.
Anthony Fitzpatrick
Curatorial Advisory
Anthony Fitzpatrick is Curator at TarraWarra Museum of Art, Healesville, Victoria. He has curated the exhibitions: Sidney Nolan: Myth Rider (2022); Thought Patterns (2019); Edwin Tanner: Mathematical Expressionist (2018); Fred Williams – 1974 (2017); Panorama (2016) with Victoria Lynn; Howard Arkley (and friends…) (2015-16) with Victoria Lynn; Solitaire (2014); Vibrant Matter (2013); and Boundary Line (2011), along with a number of solo exhibitions of contemporary Australian artists including Katie West, James Hullick. Kate Beynon, Michelle Ussher and Sam Leach.
In 2017, he curated the group exhibition Faraway, so close for Arts Project Australia. He has authored numerous catalogue essays and articles and in 2010 he worked as a Research Assistant on the Australian Research Council funded project Framing Marginalised Art. In 2005, he completed his Master of Art Curatorship and in 2002 he completed a Postgraduate Certificate in Art Conservation Studies, both at The University of Melbourne.